HER STORY
Aida Al Khaled Al Rowas (3 November 1949 – 12 May 2020)
Her story began in a historic Arab house in old Damascus, a city renowned for its attractive buildings and exquisite examples of Islamic architecture and rich in Islamic artistic expression. She was raised in a traditional Damscean household and this immersion in a historic Arab house charged her earliest memories with a rich store of aesthetic imprints and developed her awareness of spatial relationships and their response to the ever-evolving movement of people through them over time. She subsequently moved to Beirut, Lebanon, where she completed her university and graduate studies in sociology and anthropology, with a view to pursuing her post-graduate studies and beginning a full-time career in academia.
Aida also pursued a career in journalism, which brought her to Oman in November 1977, when the country was celebrating its seventh national day after the ascension of the late Sultan Qaboos bin Said to the throne, and the founding of the modern Omani state. To paraphrase her words from the preface of her first book Oman: Faces and Places 1977, first published in February 2014, 36 years after her first visit to Oman, she was mesmerized by the beauty of the natural environment and its deep seated relationship with its people, who welcomed her with warmth and graciousness into their daily lives.
Her travels took her to hard-to-reach places across a country that was on the cusp of rapid change, and she documented her journey and impressions of a place that was little known to most Arabs at the time using her 35mm camera. Although the aim of her visit was the publication of a book that would connect Oman and its people to the broader region, life's journey saw her settled in the country after she married Sheikh Abdulaziz Al Rowas, a prominent Omani tribal leader and figurehead in his own right, who subsequently became Minister of Information in 1979 and then Cultural Advisor to His late majesty in 2001.
The decision in 1987 to build what became Dar Abdul Aziz bin Mohamed Al Rowas was a multi-faceted one. As a prominent member of His Majesty Sultan Qaboos bin Said's government (September 1970 - January 2020), and in conjunction with his tribal role and position in Dhofar, the late Sultan asked him directly "when do you plan on building a house in Salalah [Dhofar's provincial capital]?".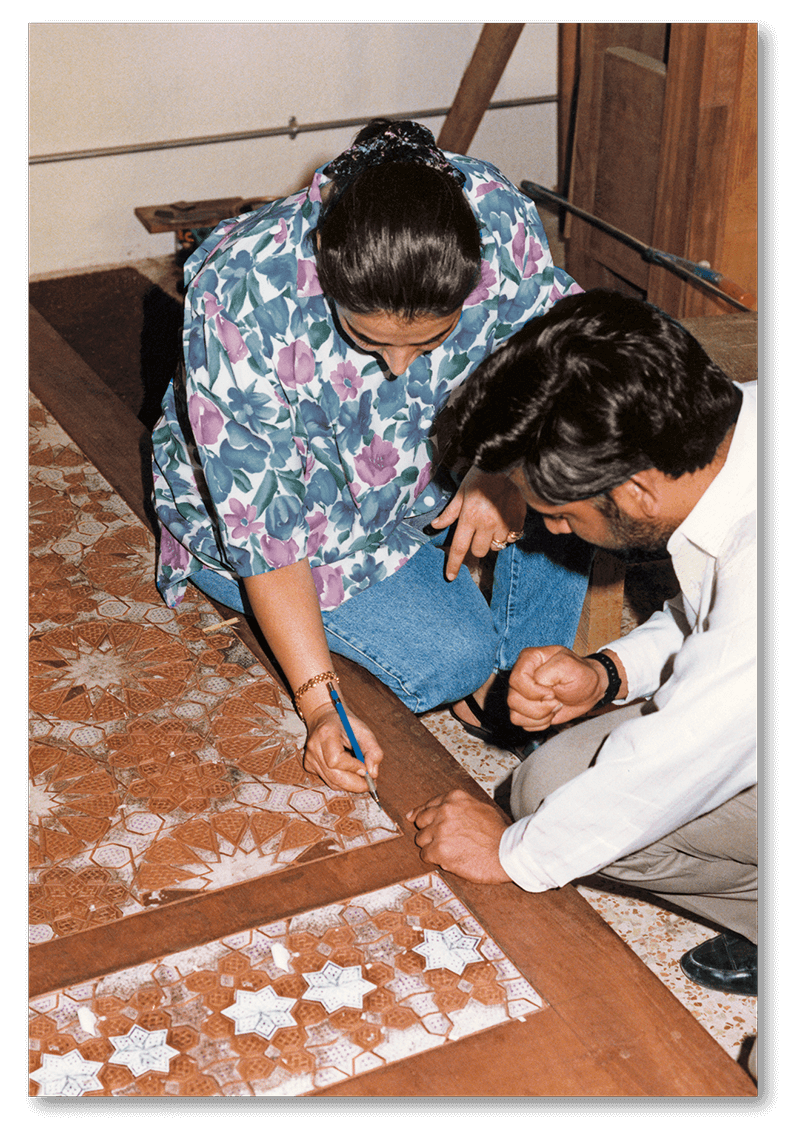 The process of translating designs from paper to carving occurred over many iterations and exquisite attention to detailed. Every detail required hours of communication and discussion to bring the design concept to life.
The requirement was to create a space capable of serving as a tribal gathering point for very large groups of people, host multiple varied smaller gatherings simultaneously, whilst functioning as a home for the nuclear and the extended family, namely Sheikh Abdul Aziz's mother, Khair bint Ali bin Abdullah Bin Abdul Wadud, a prominent member of Dhofari society in her own right.
Underlying these core functional requirements, Aida also wanted to ensure that the space successfully connected the land, its people, and prevalent local cultures, and also harmonised with the still nascent Omani national identity and culture that was being shaped by the country's development at the time. The design challenge was to create a space that reconciled public and private function and also supported establishing common cultural ground at multiple levels.
These complex requirements shaped the design concept and grounded it in the desire to revive local Dhofari architecture, honour the shared identities and values of the owners of Dar Abdul Aziz bin Mohamed Al Rowas, and harmonize with their broader social setting; the result, a design concept underpinned by a local Omani heritage and set within a broader Arab historical context.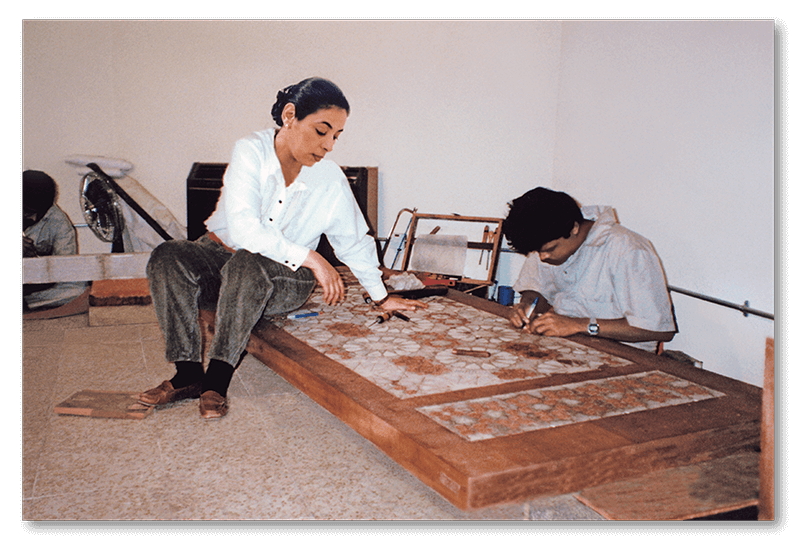 Her relationship with every carver and carpenter was direct and personal. The carpentry was where she spent most of her time during this phase of the project and she came to think of everyone there as family.
Budgetary realities relative to the ambitions of the project, and the desire to achieve a tight 'functional-aesthetic' balance in the final product, meant that by 1988, Aida Al Rowas was tasked with directly managing every aspect of designing, planning, construction, and implementation of the project. This included travel to Jordan, Syria, Egypt and India among others, to procure construction materials and recruit skilled labour. A specialist company was set-up to undertake the civil construction of the building and a purpose-built carpentry workshop in Muscat was established to complete the wooden fixtures, bespoke ornamentation and furnishings throughout the residence. The project was completed in 1993, including all the built-in wooden components. The complete interior design of the house, including additional furniture, lighting and final decorative touches were finished incrementally, during the many years that followed.
Despite the intensity of the final architectural work, unprecedented attention to detail and level of harmony achieved linking all aspects of the design, the very function that drove the conceptualization and realization of the project meant that it had to serve its purpose, rather than become a focal point for broader artistic appreciation and discourse.
It was only in 2012, 12 years after her spouse had left his post as Minister of Information and moved into a new role as Advisor to the Sultan for Cultural Affairs, that Dar Al Sorat publishing house was even established, and the process of publishing the book documenting this project, Silent Journey (2016), began in earnest.
In the first and only event celebrating her works that she allowed during her lifetime out of respect and commitment to the values that shaped her life and immortalized through the body of work that she left behind, Aida Al Khaled Al Rowas launched her books at a bespoke local exhibit by Dar Al Sorat at the Muscat Book Fair February, 2017.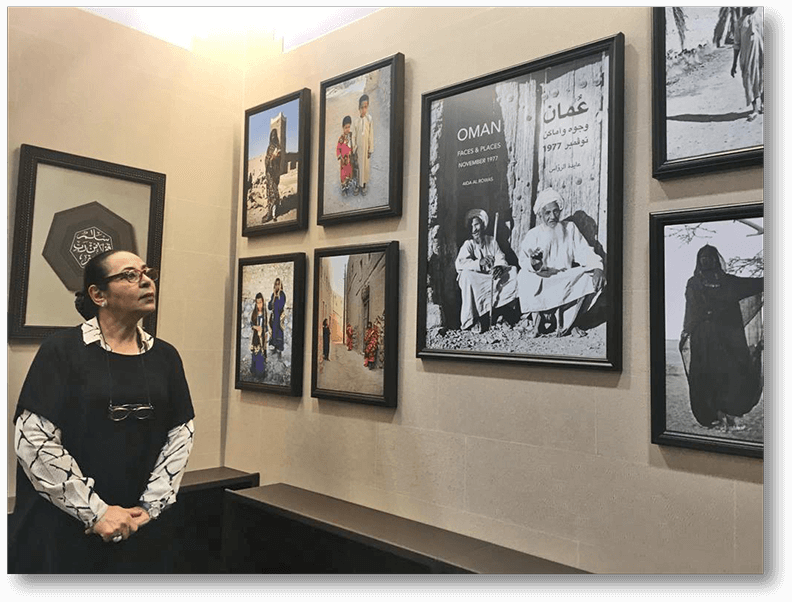 The book fair fair in Muscat, Oman 2017.
She was diagnosed with a terminal form of cancer in June 2019 and passed away peacefully with her loved ones in Muscat, Oman on 12 May 2020.