HIS STORY
Sheikh Abdul Aziz Bin Mohamed Bin Abdul Aziz Al Rowas (18 October, 1945).
Born in Salalah, Oman in 1945, Sheikh Abdul Aziz bin Mohamad Al Rowas grew up with a foundation rooted in Muslim and Tribal values. His mother Khair Bint Ali Bin Abdullah Bin Abdul Wadud, studied Sufism at the hands of a Yemeni scholar that her father escorted from Yemen at his own expense for the purpose of her religious education. She in turn taught these principles to children and girls in Salalah and ensured that her son had memorized the Quran before enrolling in school at age 6. Although his father provided a loving and firm presence in his life, Sheikh Mohamed bin Abdul Aziz, like many Omanis at the time, had to travel frequently to the Gulf to earn a living. During his formative years, his uncle Sheikh Saad Bin Abdul Aziz Al Rowas, raised him. Sheikh Saad was considered one of the highly prominent figures in Dhofar province at the time, not least given his close work with Sultan Faisal bin Turki and Sultan Taimur bin Faisal and Sultan Said bin Taimur may they all rest in peace.
He completed his elementary education in Al Saaidiyah school in Salalah by age 13. With no middle and secondary schools available in Oman back then, he sought special dispensation from Sultan Said bin Taimur to be granted a passport that would allow him to travel to the Gulf to complete his education and seek better economic opportunities. Over the next 10 years, he moved around the Gulf, where he lived in Kuwait and Saudi Arabia using various pseudo names to travel, gain employment, and study for his middle school certifications and the college of Arab culture certification.
Politically, this was a particularly volatile period in the Gulf's history, with numerous factions manoeuvring to exert influence and garner advantage, thereby creating a dangerous climate for Omanis seeking safe passage. Oman herself was experiencing insurgencies and factionalism, which was exploited by external parties to advance their own political agendas. It was within this politically charged climate that he was imprisoned in Saudi Arabia for 20 months, after being accused of communism; an ideological framework Sheikh Abdul Aziz has always considered to be incompatible with Islamic values and fundamentals. After his release, he travelled to the United Arab Emirates in September 1969 and remained there until he returned to Oman in 1970.
By 23 July 1970, the late Sultan Qaboos had officially ascended to the throne and subsequently issued a general amnesty to all displaced Omanis, urging them to come home and start a new chapter to build the country together. Curious about the truth of this, Sheikh Abdul Aziz made the treacherous journey back into Oman, and met with the Sultan during a public lunch following Eid prayers. This historic meeting was a crucial turning point in his life, which led to 50 years of service to the state of Oman through various roles. Amongst them, he served as Information Minister for 18 years and as Advisor to the Sultan for Cultural Affairs for 20. He retired from public office in April 2020, three months after Sultan Qaboos bin Said passed away.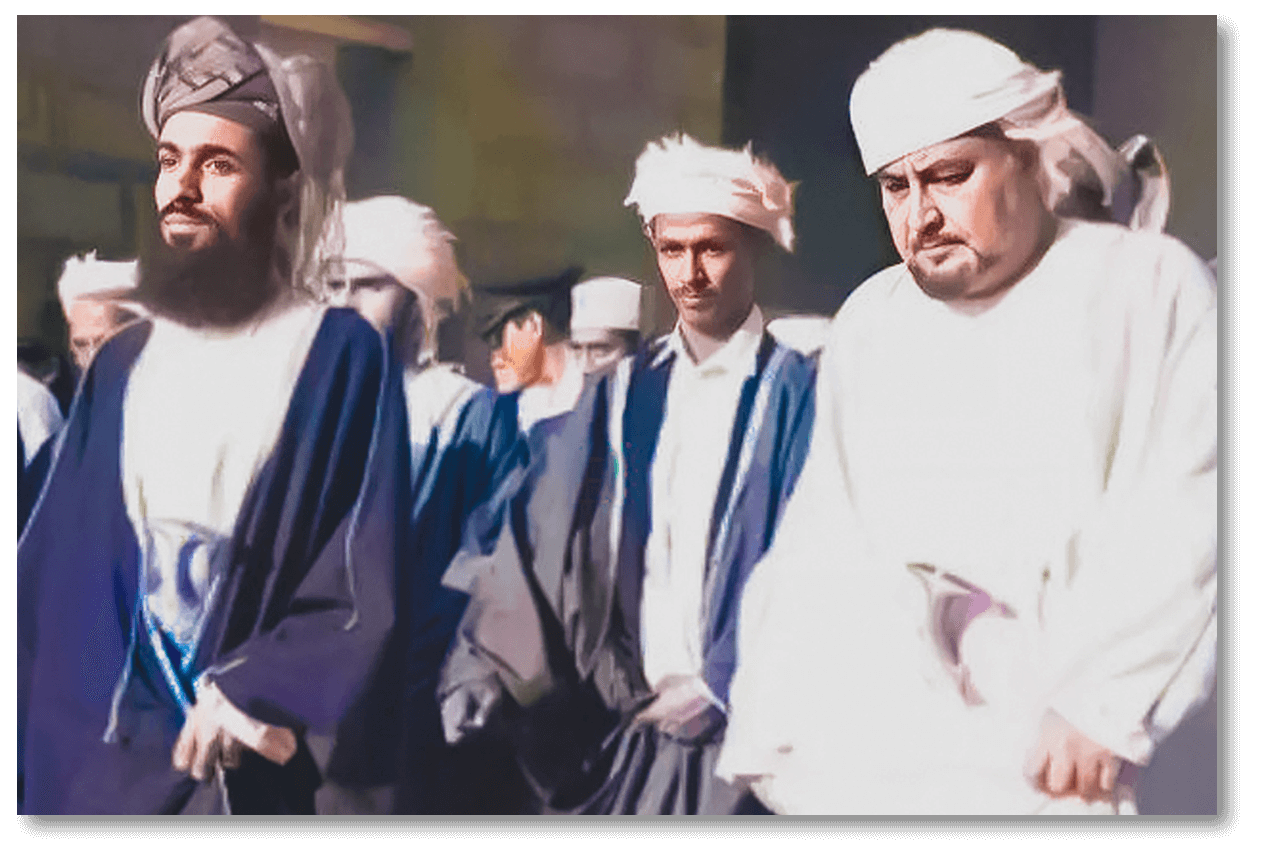 This photo was taken after the Eid Fitr prayers in Khor mosque in Muscat November of 1970. Appearing in this picture is the late majesty Sultan Qaboos bin Said and, on the left, appears the late His Royal Highness Sayyid Tariq Bin Taimur who was prime minister at the time and in the back appears Sheikh Abdul Aziz Al Rowas.
Throughout his career, he was highly motivated to support the state's effort to bring together a cohesive and modern Omani identity, and help heal the wounds Omanis had suffered following many years of strife and emigration.
Among his achievements of national and international cultural value:
Al Baleed Archeological Park and the Museum of the Frankincense Land within it.
Ubar Archeological site in Shasar.
The Khor Rori Heritage Reserve.
Samharam Archeological city which featured a unique visual display on the mountain that tells the tale of Ancient Omanis and their passage across this land over time.
Wadi Dawkah where thousands of Frankincense trees were planted for their symbolic, historic and cultural significance.
The trail passing the frankincense trees of Wadi Dawkah, through the remains of a caravan oasis in Shisr/Ubar, Khor Rori and Al Baleed, were given World Heritage Site status by the UNESCO, and were collectively dubbed the 'Land of Frankincense'.
Before his retirement, he also completed several other projects:
Excavating the Fort in Salut Archeological Park.
Completion of the Encyclopedic works "Oman throughout History" which were announced with permission from his Majesty Sultan Haitham Bin Tariq during an opening ceremony under the patronage of His Highness Sayyid Shahab Bin Tariq.
In recognition of an illustrious career and his dedication to it, he was granted one of the highest honors in the country, 'Wissam Al Rusookh', by the late Sultan Qaboos in 2010 to commemorate his lifetime of service. He was granted the award of 'The Man of Arab Heritage' in 2017, after receiving one million votes from around the Arab world.
Dar Abdul Aziz bin Mohamed Al Rowas continues to be the home of Sheikh Abulaziz bin Mohamad Al Rowas and his daughters Dr. Sora and Dr. Meda in Salalah and continue to serve as a space for gatherings and communal functions.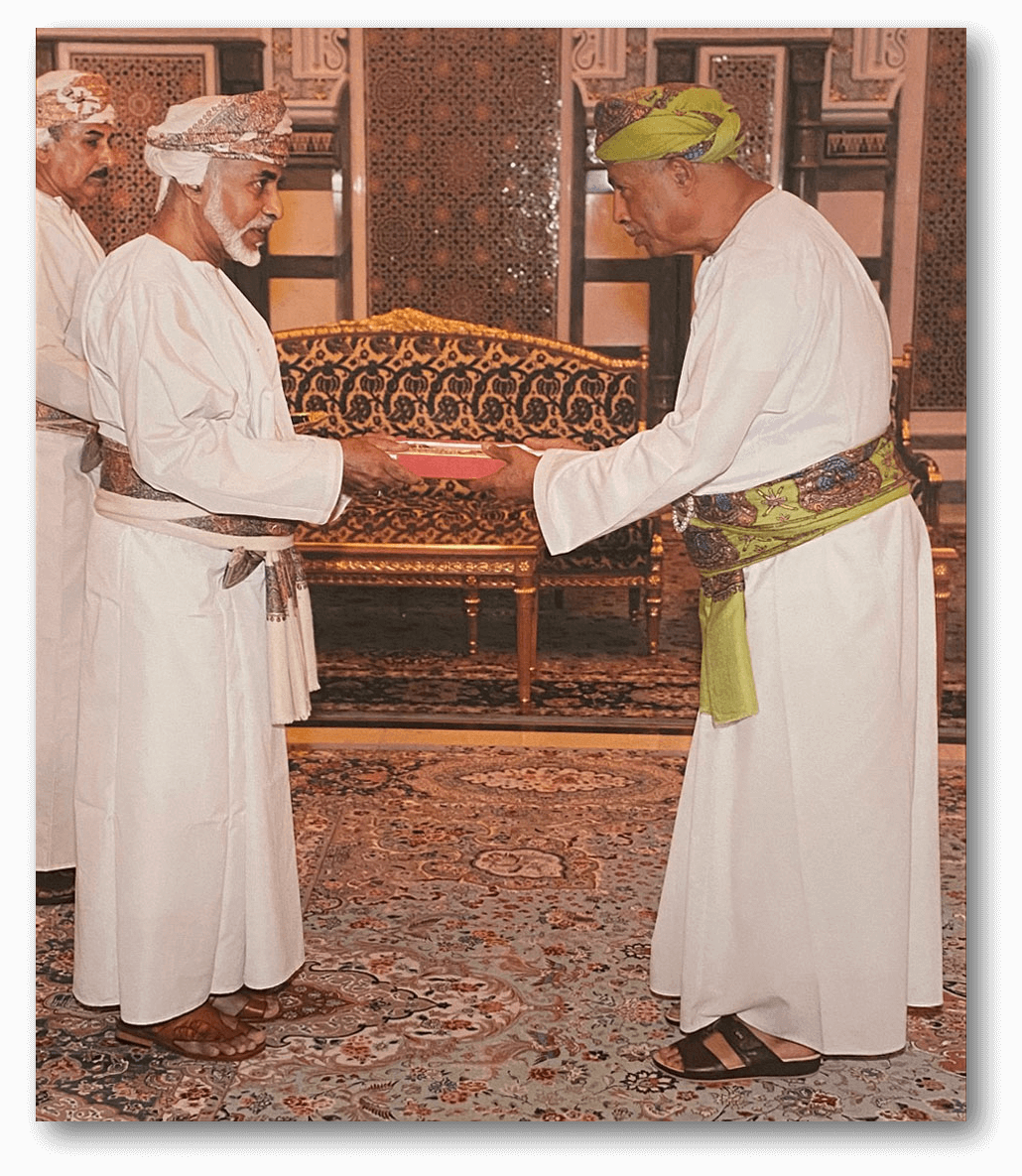 This photo shows His late Majesty Sultan Qaboos bin Said bestowing "Wisssam Al Rusookh" to Sheikh Abdulaziz Al Rowas in November 2010.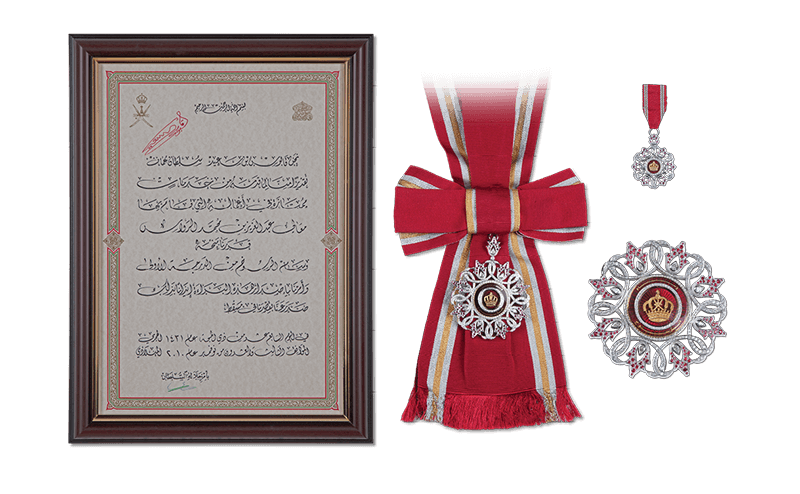 On the left is the certificate and on the right are the medals received
"Wissam Al Rusookh".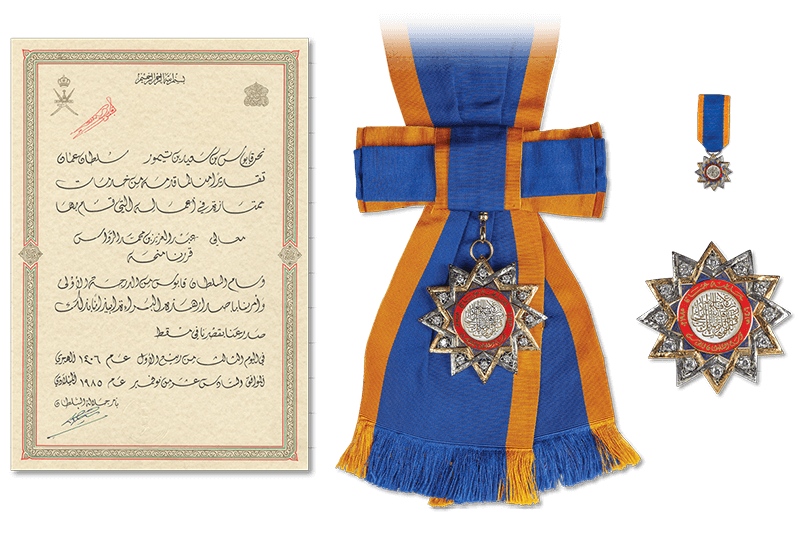 He was decorated with the "Sultan Qaboos Award from the first grade" in 1985.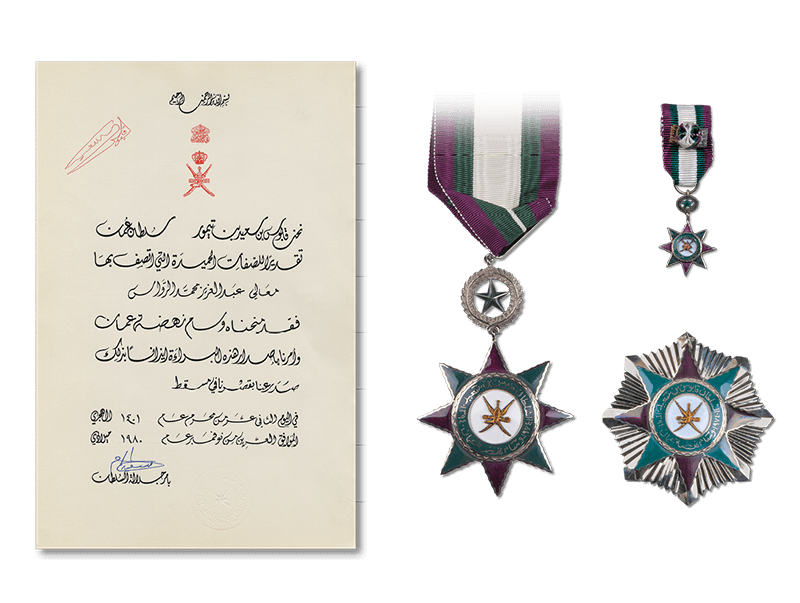 He was decorated with "The Renaissance Award" by his late Majesty
Sultan Qaboos in 1980.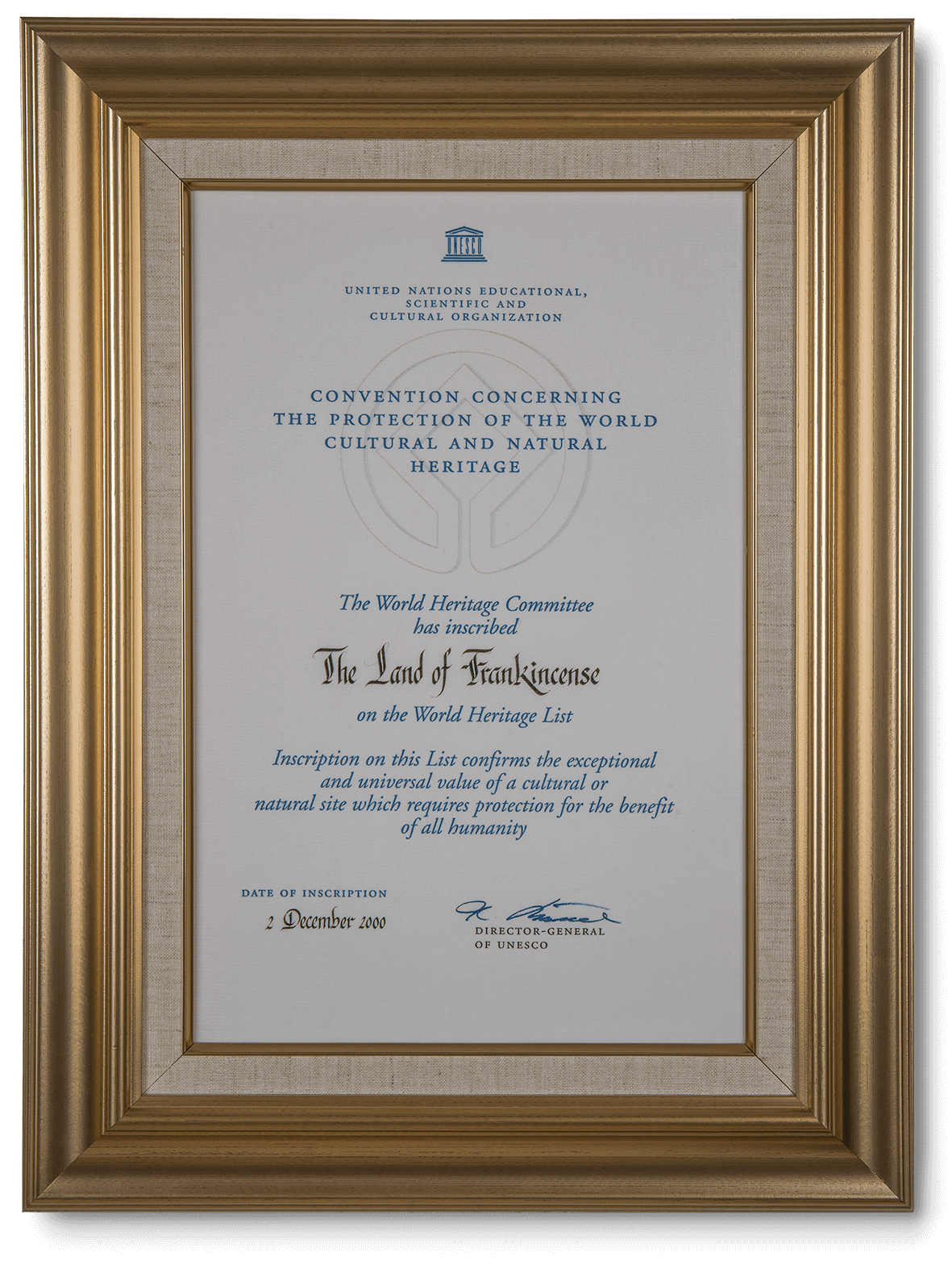 His life's work was marked by working at an international standard. Above is the United Nations Educational, scientific, and cultural organization for the Land of Frankincense as a world heritage site. His goal was always to preserve Oman's legacy and historic landmarks for generations to come.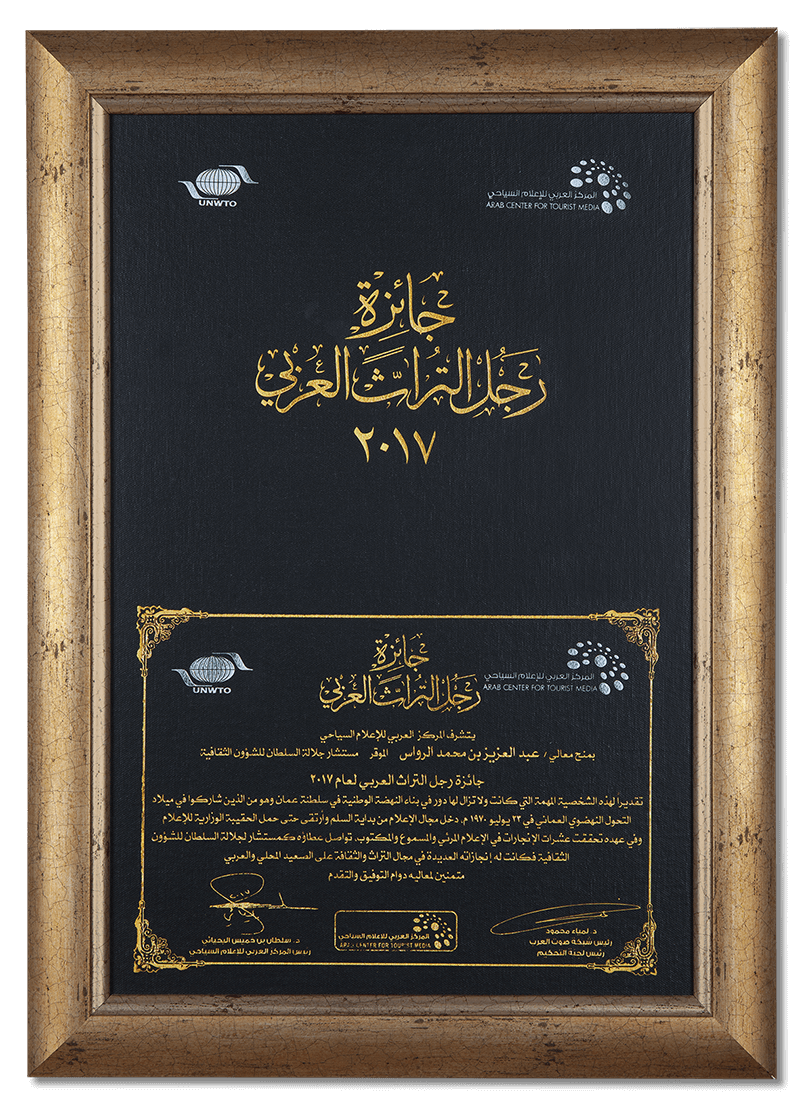 By popular vote across the Arab world, one million people voted for Sheikh Abdul Aziz Bin Mohamad Al Rowas and as a result, won the award of "The man of Arab Heritage" for 2017. This was in honour of his work in Al Baleed Museum and the Land of Frankincense that brought to life the ancient civilizations of Oman.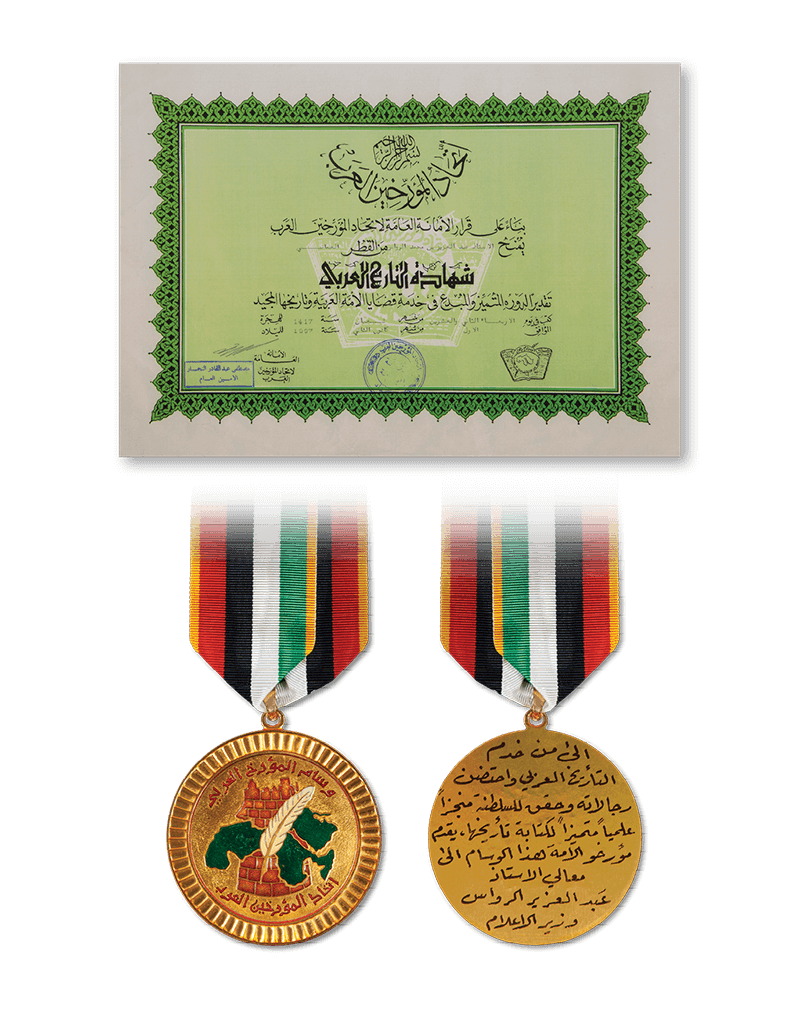 He was honored the medal of "The Arab Historian" by the United General Assembly of Arab Historians. On the back of the medal is the inscription: "To whom served Arab history and embraced its men and achieved on behalf of Oman a significant work to write its history: The United Assembly of Arab Historians present this medal to His Excellence AbdulAziz Al Rowas the Minister of Information.". 1997.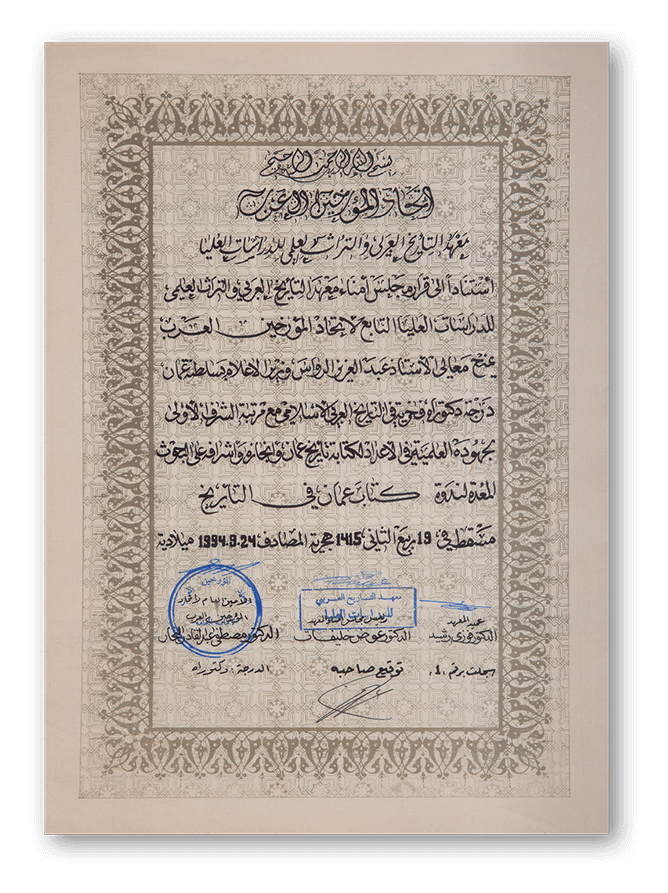 He was also honored by the Academy of Arab Science and history for higher studies which is under the auspices of the General Assembly of Arab Historians the degree of an honorary doctorate in Arab and Islamic History with the highest Honors for his scientific work towards writing Oman's history and his supervision over many scholarly works in support of the work "Oman in History". In 1994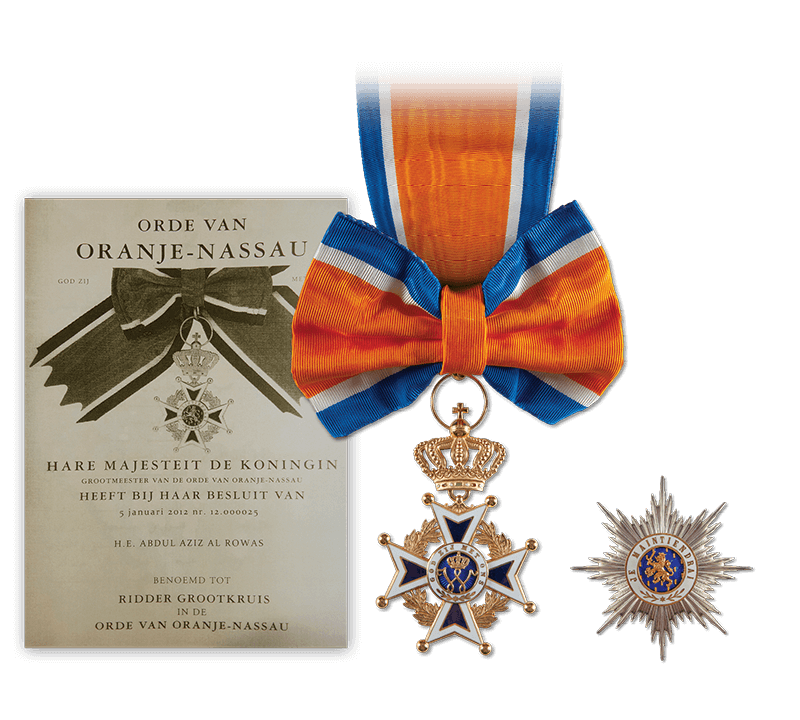 He was granted the honor of "Commander of the Orange-Nassau" by the Kingdom of the Netherlands in 2012.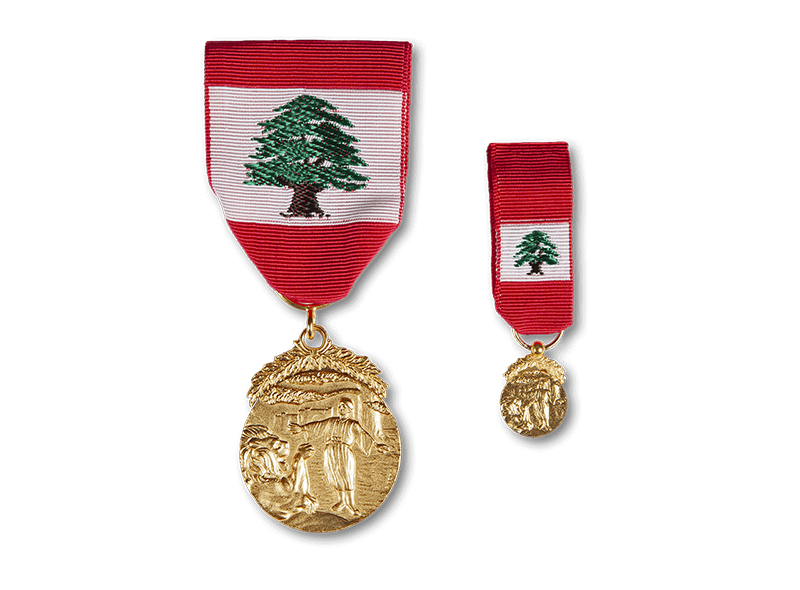 He was honored by Lebanese President Emile Lahoud the medal of the Republic of the first order in 2002.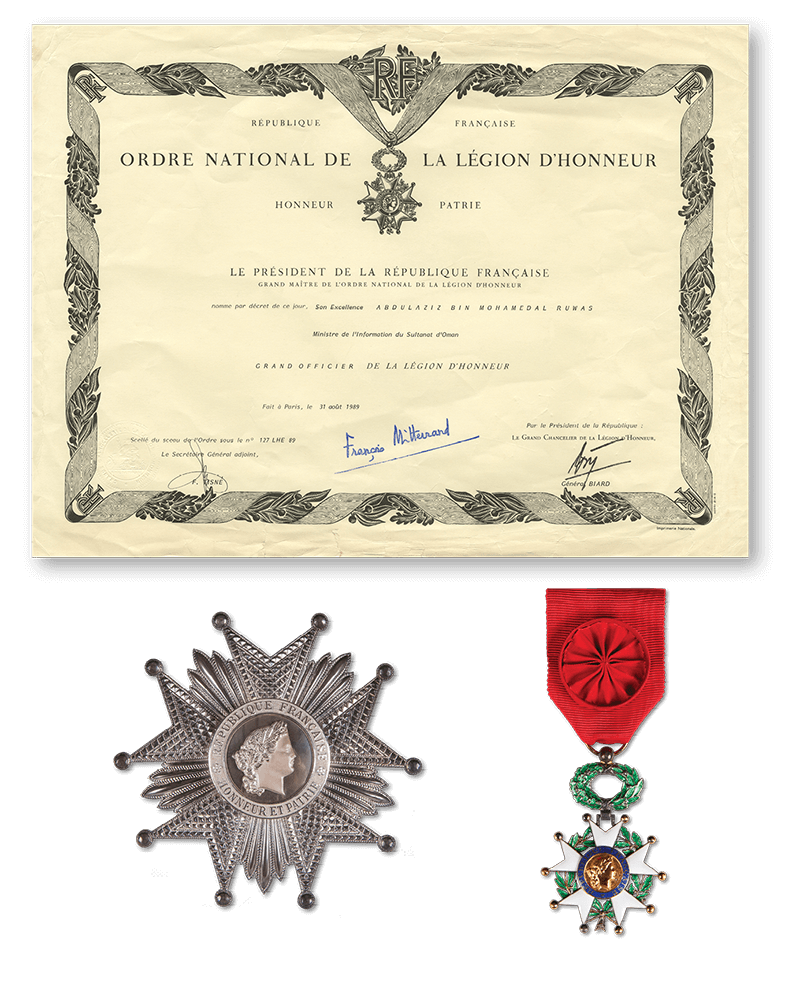 He was honored the medal of "The National order of honorary legion" as a Grand Knight by the President François Mitterrand in 1989.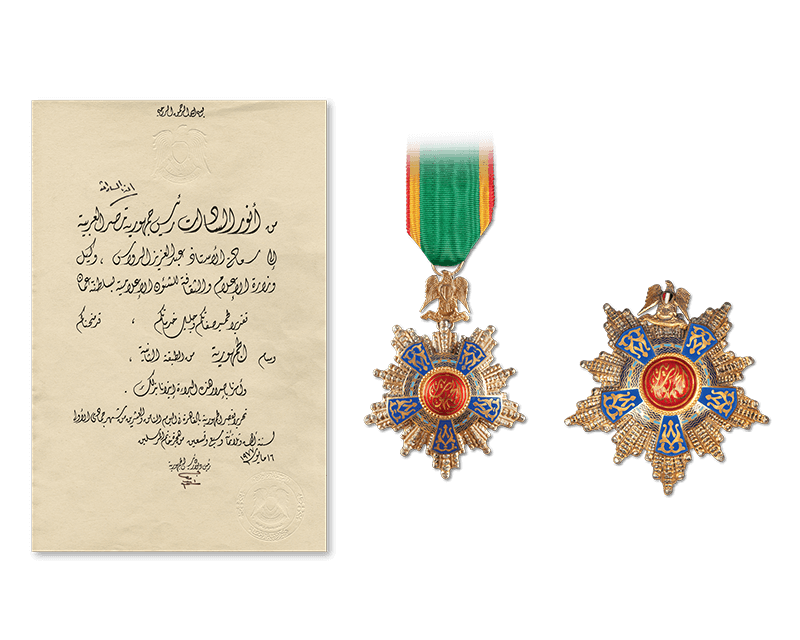 He was honored by the late Egyptian President Anwar Al Sadat : The Medal of the Egyptian Republic of the second order in 1977.